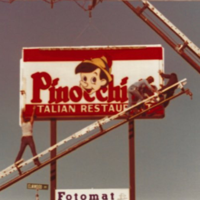 Pinocchio's Italian restaurant to reopen after 20 years on Campus Corner | Culture
Italian restaurant Pinocchio will reopen on Campus Corner in late 2022 after being closed since 2001.
The restaurant opened in 1972 in the village of Stubbeman near Glen Woods, serving breadsticks, pizza, spaghetti and salads. Woods closed the restaurant in 2001 when he realized he wanted to pursue a career as a music teacher. He graduated from OU in 1969 with a degree in music education, according to Oklahoma.
Norman local Michael Nash is teaming up with Woods to reopen in a new location. Nash said he was ordering breadsticks at a local pizzeria in Norman when he realized Pinocchio's breadsticks were missing.
"I logged on to see where the closest Pinocchio was, and that's when I found out it wasn't a franchise," Nash said. "I came across an article that was doing an interview with Glen Woods…and I showed up on his doorstep and asked him if he wanted to take Pinocchio back to Norman."
After reviewing Nash's proposal, Woods said yes. Nash said they hope to have the restaurant open by the OU's first home football game in September.
"We're going to decorate the interior like (the original) Pinocchio, but we want to modify it a bit," Nash said. "We want to celebrate Norman's story and Pinocchio is part of that story."
The majority of the restaurant's clientele are expected to be Normans, although Nash said adding students to the base would be a benefit. In addition, the basic dishes on the menu will remain the same with little change in the other dishes offered.
"We're going to tone down the variety a bit at first," Nash said. "We don't want to be too diverse with the menu unless there's a demand for it. If anyone is missing a particular item, all they have to do is make a request and let us know. We will bring it back.
Pinocchio's will reopen at 325 White St. in September at the former location of Victoria's Pasta Shop.
Nash said Pinocchio's legacy lives on in Norman.
"Twenty years after Pinocchio closed, people still have fond, passionate memories of food," Nash said. "In fact, you can go to Facebook and you'll see people posting about Pinocchio breadsticks. There are hundreds of these posts, and hundreds of comments and likes. … The feeling is shared through Norman.