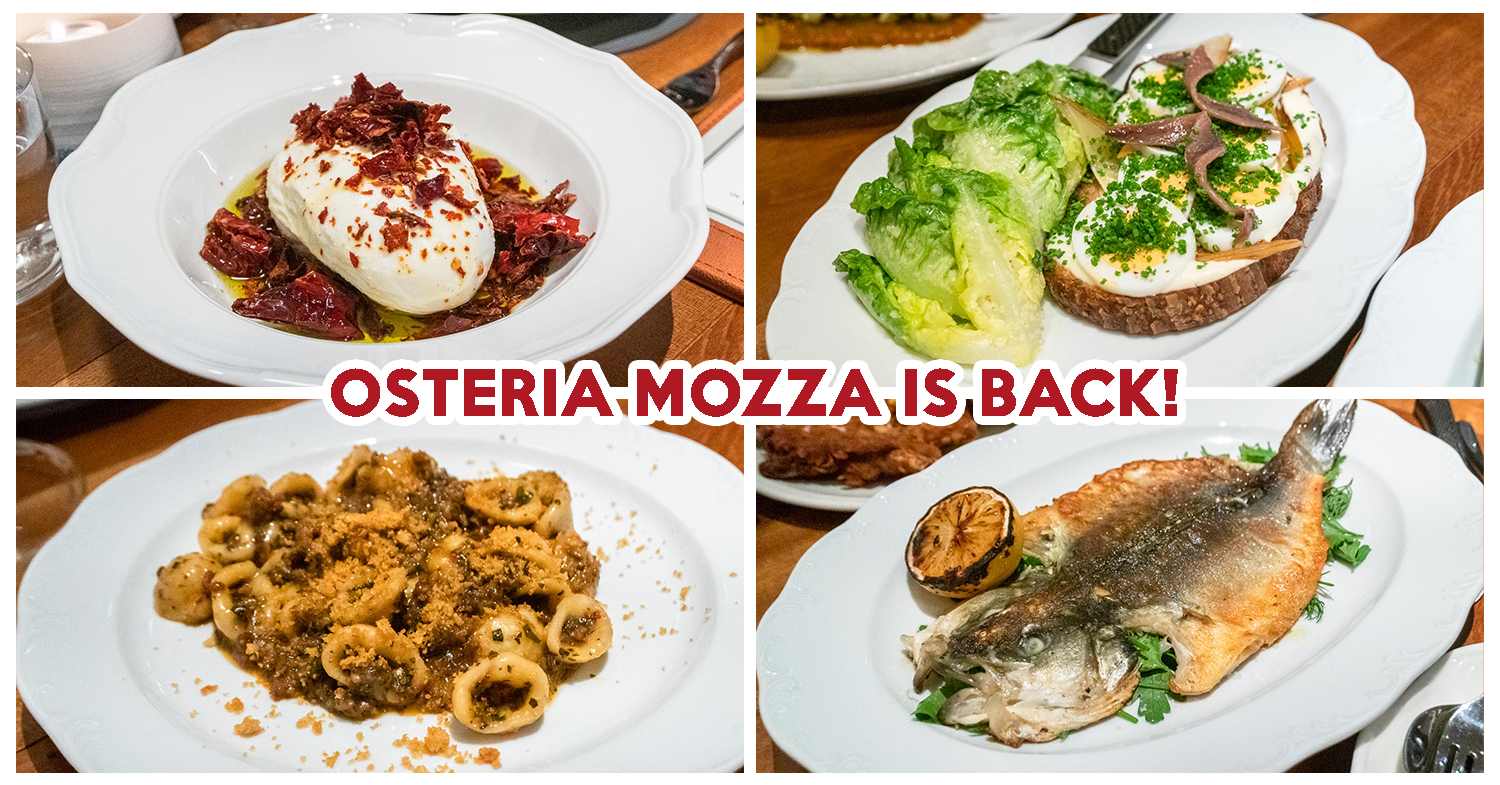 Osteria Mozza Review: Award-winning Italian restaurant reopens at Hilton Singapore Orchard
Osteria Mozza at the Hilton Singapore Orchard
Image credit: @osteriamozzasingapore
The idea of ​​high-end restaurants terrified me. You could count on the food to be great, but everything about it – the presentation, the fancy interiors, and the pressure to behave properly and properly – was somewhat distracting. I no longer have this pain, but dinner at Osteria Mozzarella reminded me of my preference for unpretentious restaurants that serve simple, home-style cooking of the highest quality.
After closing its doors in Marina Bay Sands in 2018, Osteria Mozza has found a new home in Hilton Singapore Orchard. Cal-Italian Restaurant is co-owned by Nancy Silverton, the American celebrity chef, baker, and author known for sparking the artisan bread movement across the United States in the 1990s. Her emphasis on simple cooking with ingredients from quality has earned Osteria Mozza much acclaim, including a Michelin star for its quirky Los Angeles restaurant.
Forma Review: Popular Private Diner Ben Fatto 95 and Cicheti Group Open Joo Chiat Restaurant
Food at Osteria Mozza
Our evening menu followed a fairly typical Italian meal structure. We started with canapes, and what happened was two dishes that contrasted almost comically. The first was Mozzarella from Puglia ($68++)a majestic mound of white cheese decorated with red cruschi pepper, and the second, Marinated olives ($16++)was jumbled together on a small plate with chilli d'arbol, candied garlic and orange peel.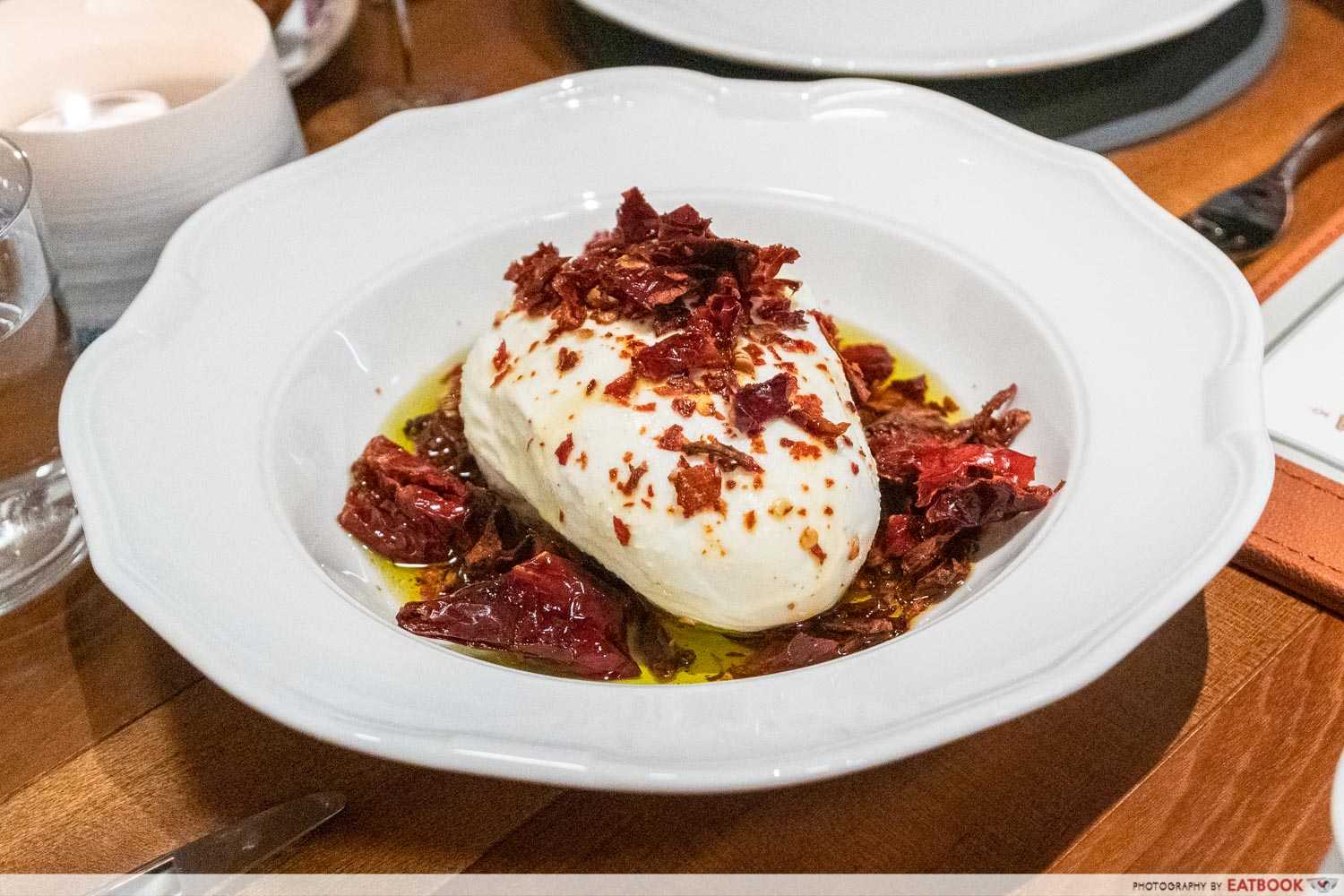 Ironically, despite the difference in size and elegance, it was the Mozzarella di Puglia that had the most subtle flavor. The mozzarella was rich and flavorful, with a light musk. But it is nonetheless easy on the palate and never goes into indulgence.
Osteria Mozza is said to be the only restaurant in Singapore to use cruschi pepper, which is an Italian sweet pepper. These added crunch, smoke and the slightest hint of spiciness. Enjoy the cheese with the fett'unta bread served on the side to enjoy it to the fullest.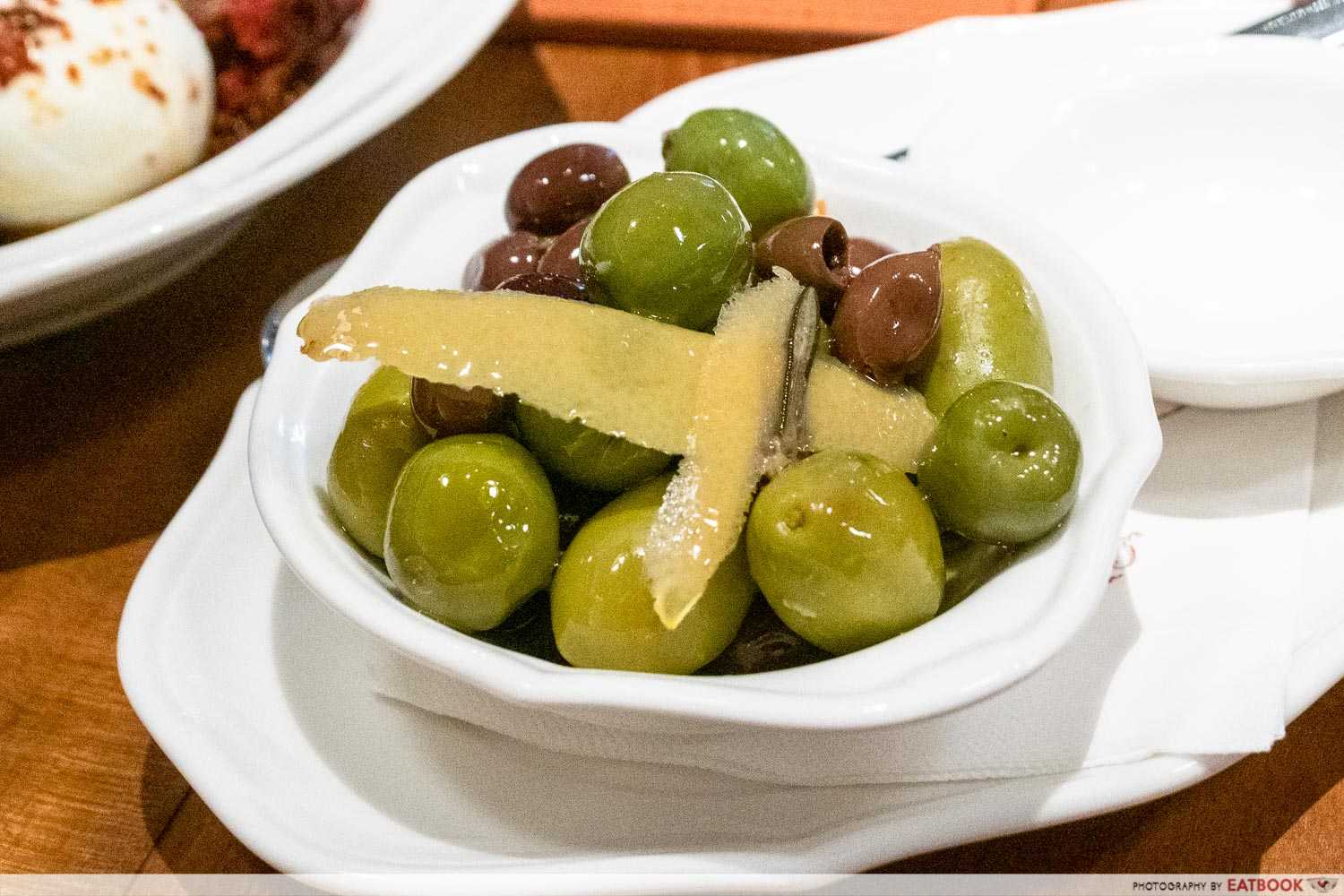 Modest olives had more explosive characteristics. Hints of spice, acidity and garlic flavor blended into the flavor of the olive, which itself was sweet and crisp.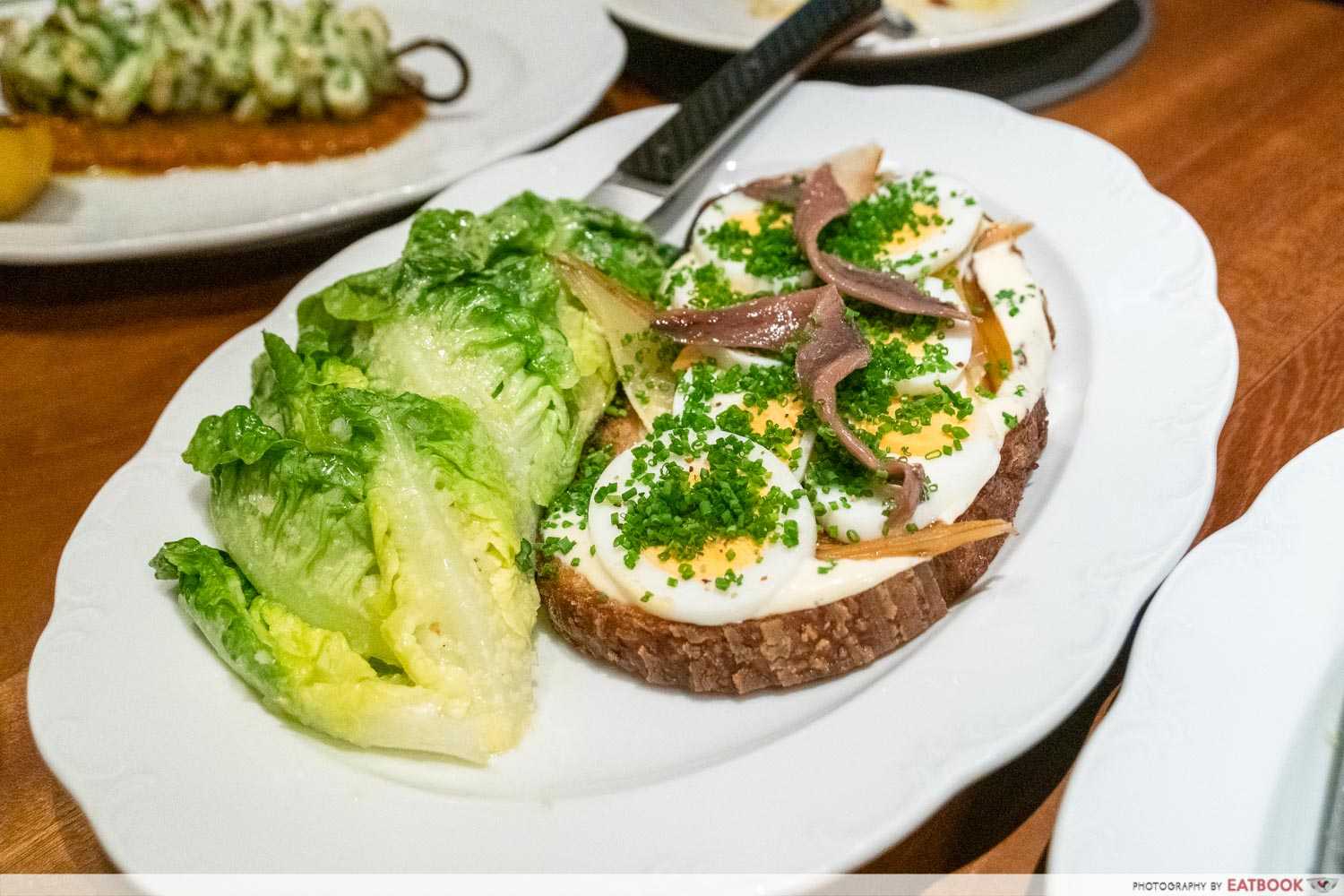 Caesar of Nancy ($23++) was our first antipasto. As the name suggests, Silverton's fingerprints are all over this version of the Caesar salad, especially with the bread, which is his area of ​​expertise. The crostini (toast) was soft but crispy around the edges and went well with the salad.
The hearty appearance of the dish belies a complex taste. Those big anchovies at the top of the salad were so salty, but then the lettuce added balance with its refreshing flavor, the egg added creaminess, and it all came together to be greater than the sum of its parts.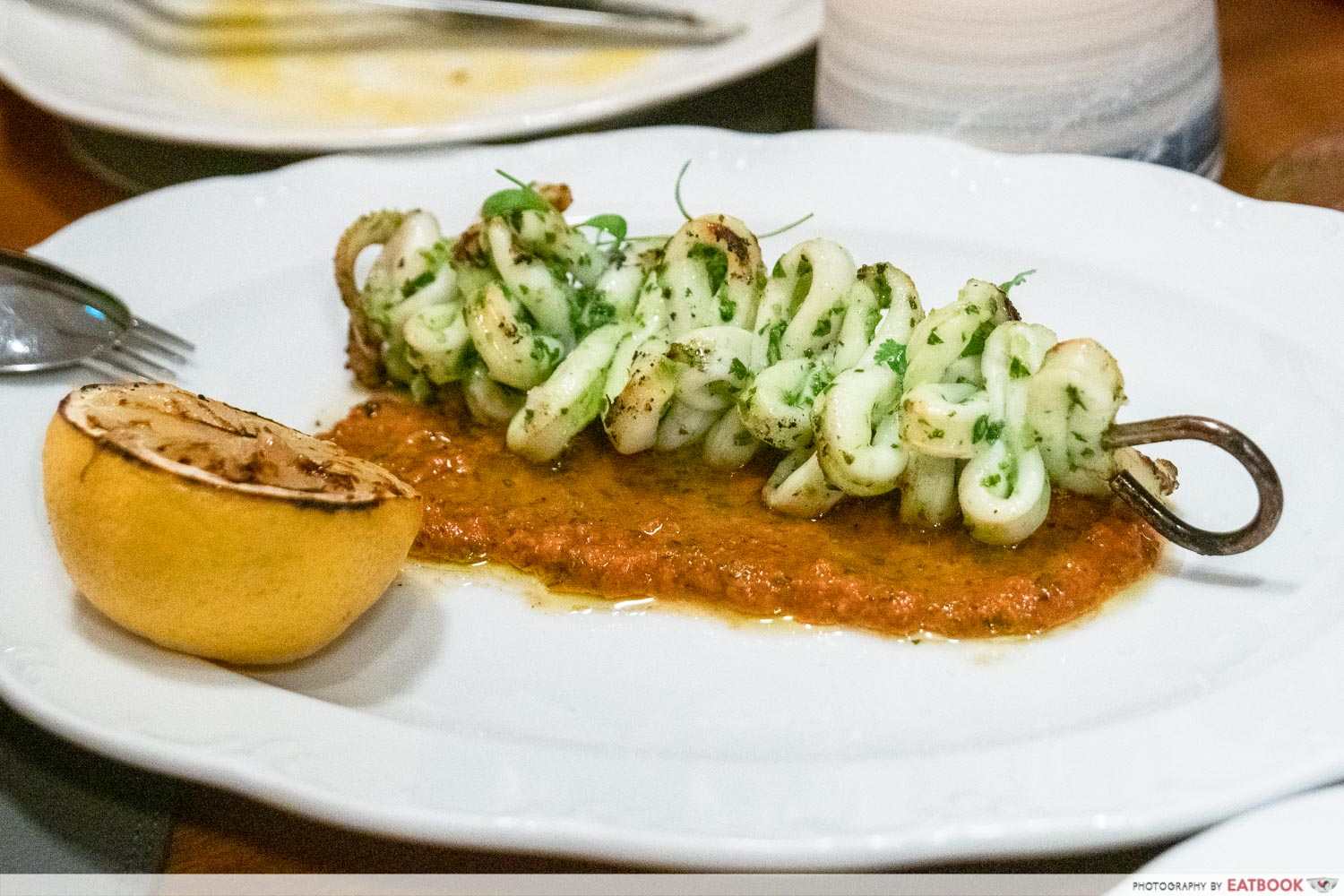 The other antipasto we had was the Grilled Calamari ($22++). The main flavor here is smoke – even the lemon, which added brightness to the squid, was grilled. The romesco sauce also piled on the smokiness but in a different way, leaning on the sweet and garlicky as well.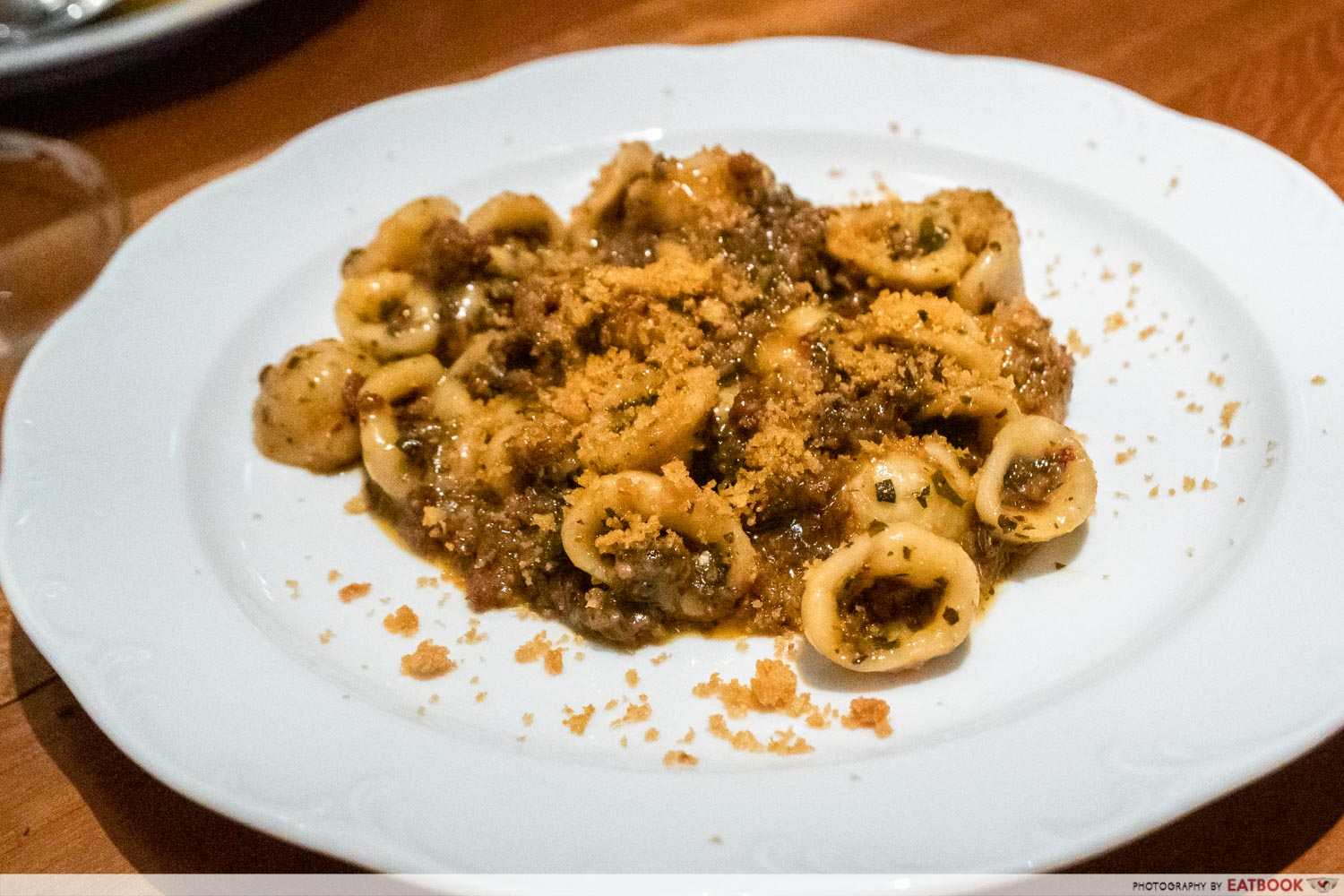 And now, the sector. The small, ear-shaped Orecchiettes ($32++) the pasta produced a peppery burn, while the meaty chunks of savory sausage and earthy Swiss chard added plenty of flavor depth. In terms of texture, the orecchiette was delicate and melted in your mouth, giving my tongue a break from the heat.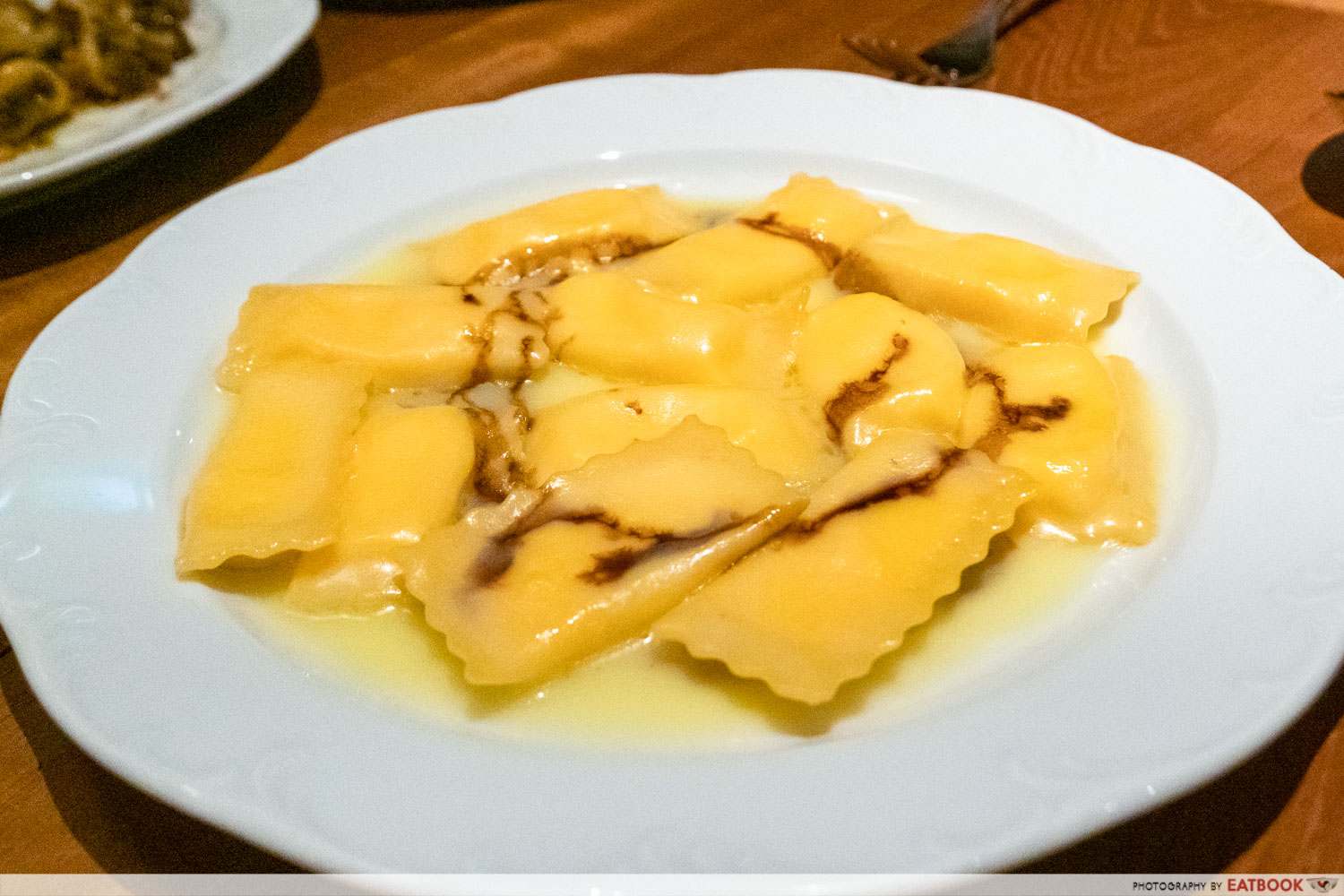 During this time, the Fonduta Ravioli ($38++) was anything but a quiet affair. It had a musky cheesy taste that was almost overwhelming, but combined with the savory undertones it becomes an undeniably exciting dish, although it threatens to get too jelak.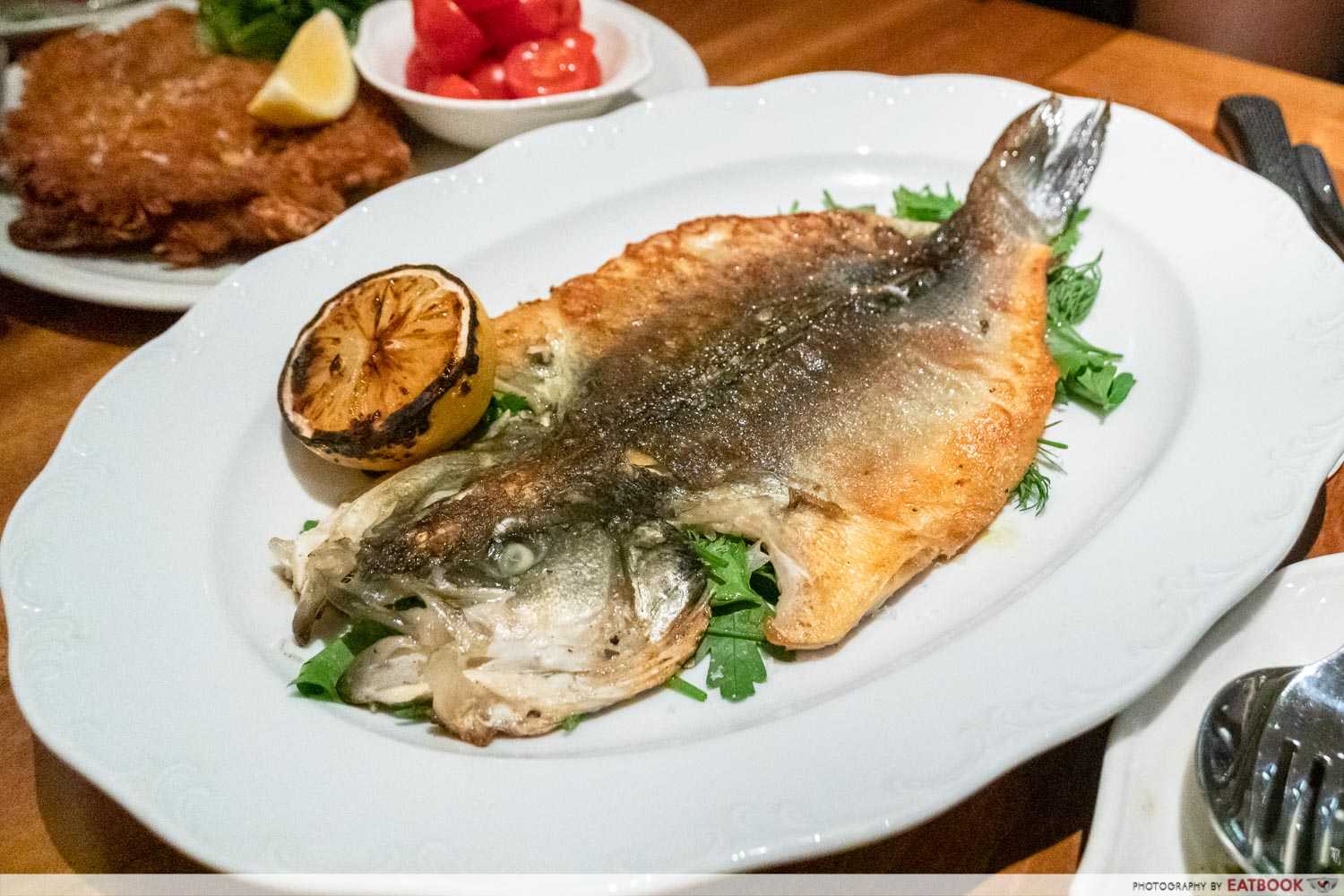 As for the second sector round, the Whole Branzino on the piastra ($65++) impressed with its comforting flavors. Considered one of Silverton's favorite dishes, the sheer pleasure one gets from it is due to the fresh Branzino fish which boasted herbal notes and crispy skin.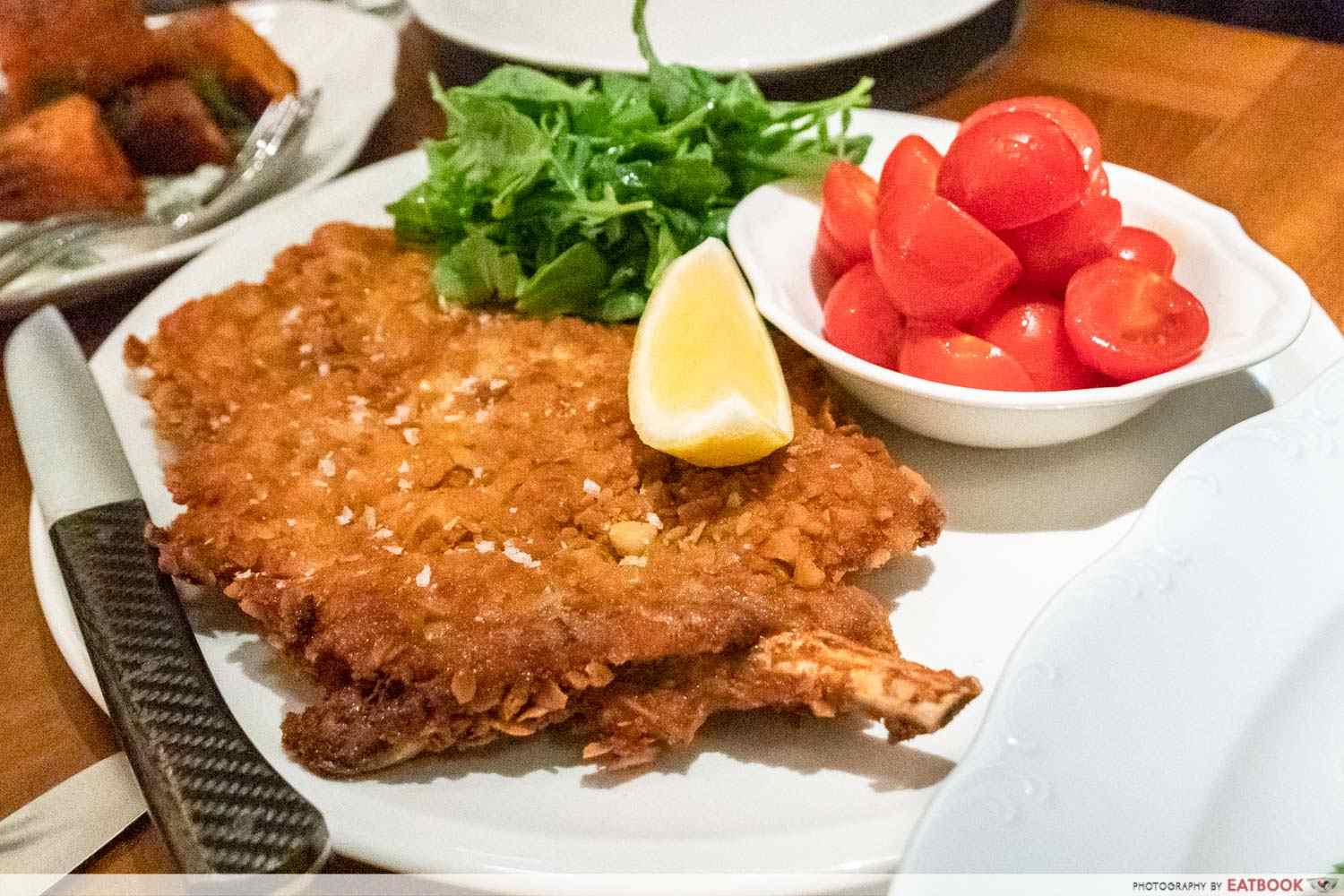 There was also the Pork Chop Milanese ($46++)a large slice of pork that's incredibly well marinated, fragrant and juicy, although it may be too fatty for some.
Atmosphere at Osteria Mozza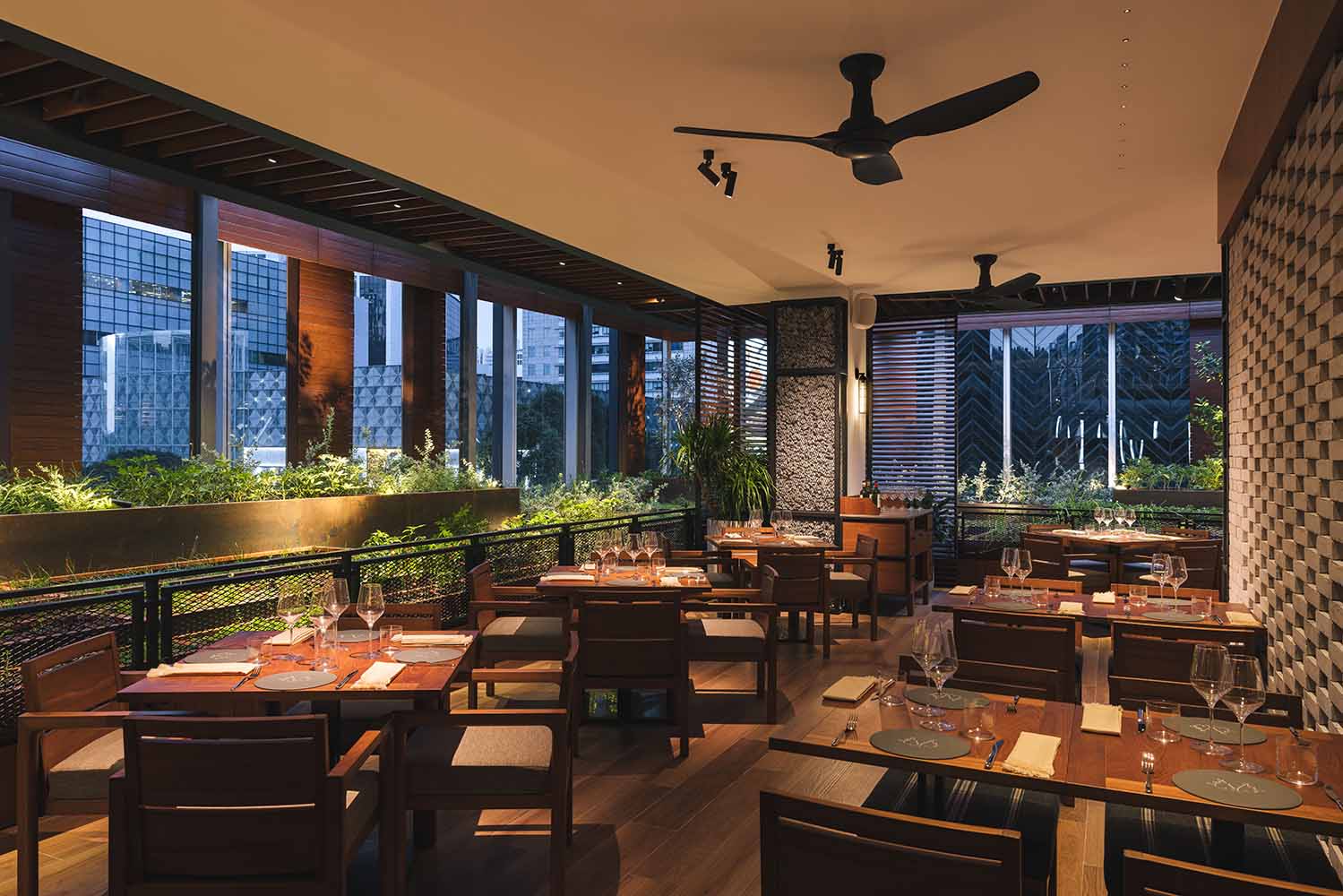 Image credit: @osteriamozzasingapore
Osteria Mozza has the appearance of a fancy restaurant, but there's something about the way the space is laid out that gives it a more laid-back, community vibe. If you want an even more atmospheric experience, there's also the lush outdoor terrace that overlooks Orchard Road.
Osteria Mozza is a six-minute walk from Somerset MRT station.
The verdict
Despite all the glamor surrounding Osteria Mozza, I was happy to find that the fare remained rooted in the simple sophistication that Nancy Silverton craves. Here, you're not paying for art or inventiveness, but rather for soulful good food. And that's what really matters, isn't it?
For another great restaurant to check out, take a look at our Perch review. If you're looking for some interesting food to try in Somerset, read our review of Ebi Bar.
Address: 333 Orchard Road, Level 5, Hilton Singapore Orchard, Singapore 238867
Opening hours: Tue-Sat 5 p.m. to 10:30 p.m.
Website
Osteria Mozza is not a halal certified restaurant.
Perch Review: Asian-Fusion Bistro With Sakura Ebi Pasta And Thai Curry Roasted Chicken In Jewel
Photos by Kay En Ze and Melvin Mak.
It was a media tasting at Osteria Mozza.
Osteria Mozza Review: Award-winning Italian restaurant reopens at Hilton Singapore Orchard

Osteria Mozza Review: Award-winning Italian restaurant reopens at Hilton Singapore Orchard – 8/10
8/10
Summary
Advantages
– Food is generally of high quality
– The best dishes here combine warm charm with superb flavor
– The atmosphere is comforting and pleasant
The inconvenients
– The grilled calamari was a bit rubbery
– Pork chop Milanese may be too greasy for some
Recommended dishes: Mozzarella di Puglia ($68++), Nancy's Caesar ($23++), Orecchiette ($32++), Whole Branzino alla Piastra ($65++)
Opening hours: Tue-Sat 5 p.m. to 10:30 p.m.
Address: 333 Orchard Road, Level 5, Hilton Singapore Orchard, Singapore 238867