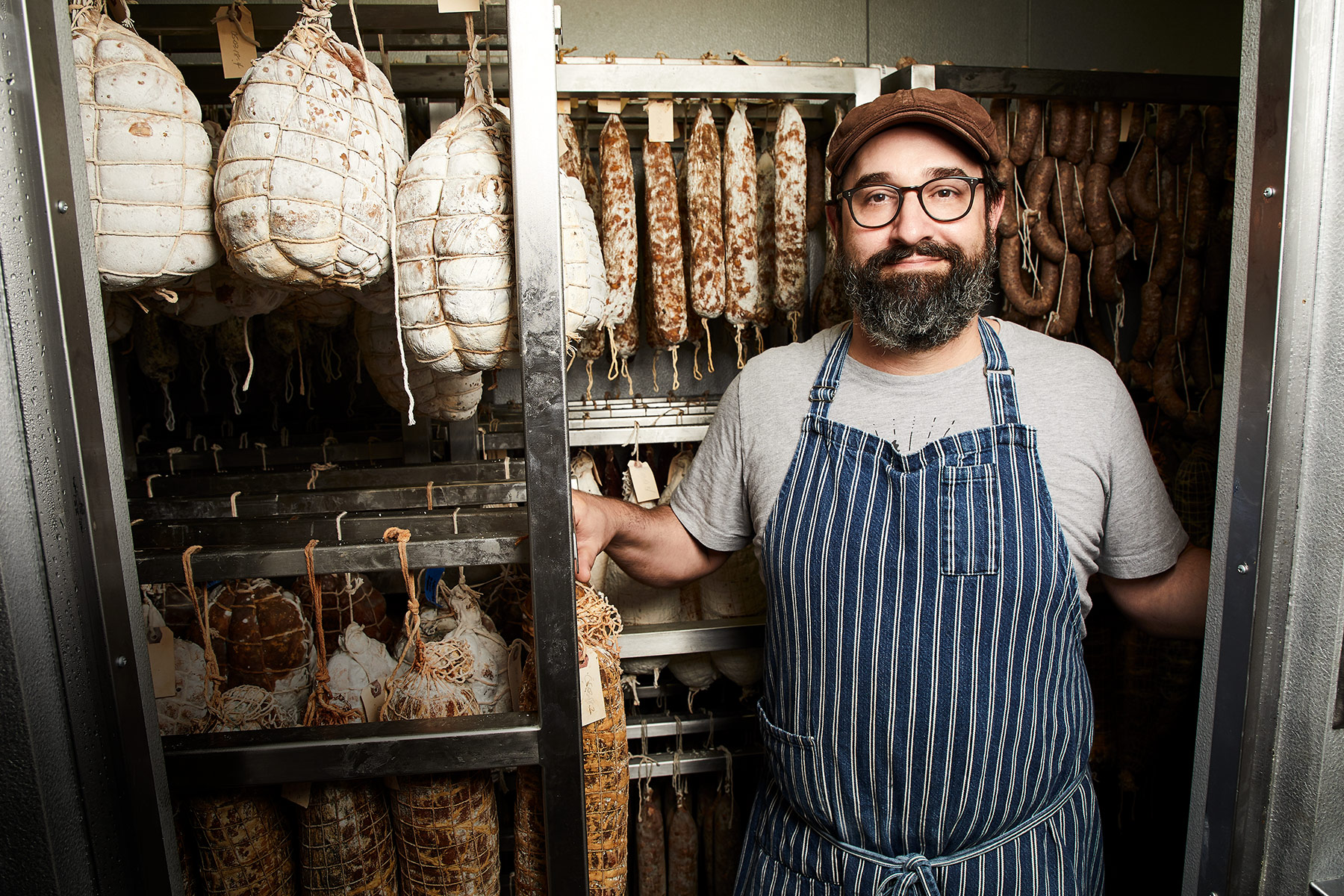 Lucia's chef talks about the Turkish roots of Dallas' favorite Italian restaurant
Lucia Chief David UygurA testament to his mastery of Italian cuisine is his resume: two beloved Bishop Arts restaurants (including the now-closed Macellaio), five James Beard Award nominations and a long list of local honors. Lucia's reservations book weeks in advance.
But Italian cuisine was not part of the Uyghur upbringing in East Texas. The son of a Turkish father and an American mother, he grew up around homemade baklava and tasted Turkish basturma long before trying its western relative, pastrami.
Since my ancestors tell almost the same story – my father is American and my mother immigrated from Istanbul as an adult – I thought it would be fun to ask Uygur how his Turkish roots affected his cuisine to Lucia and Macellaio. We also compared notes on our families' favorite foods.
(This interview has been edited for brevity and clarity.)
How did your father come to the United States?
My father was born in Crete [in Greece]. When Turkey and Greece were fighting, his family had to leave Crete to go to the Turkish coast and all the Greeks who were on the Turkish coast had to return to Greece.
They must have done a little thief in the night [to escape]. He had to invent his own last name when he was a child. Her siblings had different surnames that they made up. He was learning to speak English and he was watching National geographic learn English, and he saw the word Uygur. I am in no way part of the Uyghur people, except National geographic. I don't even know what his original last name was. A bit wacky. I love that he tried to learn English by reading National geographic magazines. Something must have seemed romantic to him about being a nomad. Or maybe it was something he picked up at random.
He became a journalist. He wrote for the Associated Press but he also wrote for Hurriyet. [One of Turkey's largest newspapers, Hürriyet was known for liberal, secular views until a conservative family purchased it in 2018. -B.R.] My father was less politically inclined, at least when I was there. I think he did some war correspondent stuff when he was much younger, but to be honest I don't have any of that.
It was always a bit random what he did. I remember at one point he interviewed HL Hunt. At the time, HL Hunt gave two interviews. One of them was my father and the other was Playboy. We were going around and he was interviewing B-list celebrities. I went around with him. William Shatner. Chuck Norris, pre-Walker, Texas Ranger.
John Wayne was the most famous person. I don't remember being there, I just remember he was the physically tallest person I had ever seen in my life at the time. He smelled of alcohol and cigarettes and wanted to go get the little boy, and I ran away. At least, so the story goes.
What type of food did you grow up on?
I grew up in East Texas. In fact, I have never been to Turkey. For a long time, there was this whole thing of compulsory conscription. [Turkey requires male citizens under age 41 to serve in the military. Uygur and I are technically citizens by birth, but neither of us has ever claimed citizenship. -B.R.]
My dad cooked a decent amount, but it was more special occasion and less everyday. The things that I remember really liking, whenever we had lamb, he would grill shish kebab, or he would do kofte. Much of it was just raw vegetable salads in the summer. Tomatoes and onions.
He made börek and baklava. Everyone always seemed to like their baklava, but I thought it was too sweet. I have always found the manufacturing process fascinating. I liked when you take it out of the oven and pour it over the syrup when it's really hot and it foams up a bit. He also made bread sometimes. He made flatbreads. He made börek.
It was my favorite, börek. Especially the kind filled with feta and lots of herbs.
Me too. His main thing was spinach and cheese, and I liked that.
My parents divorced when I was 13 and my father passed away when I was 17. So all that was a long time ago and the memories are not immediate. But one of the things my dad did was help people get visas, find jobs, and so on. Occasionally we would go to Dallas, New Orleans or Houston and visit other Turkish families. So there was party food. I went to a Turkish wedding once. Strong. A lot of food. Batches of food. A ridiculous amount of food.
I imagine East Texas would have been tough for him. In southern Indiana, we used to drive 75 miles round trip to the only grocery store that had decent olives and feta cheese.
Longview, there was nothing. So it was something that we combined with a trip to an actual city. In Dallas at the time, Jimmy's had some stuff, but there was a place called Al's, a Middle Eastern market with big barrels of olives and feta in brine. We would stock up. We would fill the freezer with all the phyllo it could possibly handle.
The Turkish influences were much more apparent in Macellaio, because I feel like I have to sneak a little more into Lucia.

david uyghur
For us to have lamb in Longview in the late 70s, early 80s, you had to pre-order, you had to order it and wait a week. You used to get the standard butcher's packet of a leg of lamb with a packet of mint jelly. I have never had mint jelly with lamb, it seemed a little weird, but we had mint at home. My father picked mint and dried it on baking sheets.
When you started cooking professionally and getting training, was Turkish cuisine something for you?
I did, but didn't really think of it as something I could focus on. It was still the first generation. Whereas with Italian and French, you have a lot more room to determine what you want to do within those food cultures in the United States. At cooking school, things that weren't French, Italian, a little Spanish, didn't really exist. We did a day on Japanese food. One day.
I have always enjoyed Turkish cuisine. It was something I looked for whenever I moved to a new city. But it wasn't something I could build a career on.
I've definitely seen Middle Eastern influences appear on the menus at Lucia and especially Macellaio. Like the charcuterie board at Macellaio had basturma.
It was probably the first jerky I've ever eaten. When I started to figure out how to dry meats, this was one of the ones that popped up, when I thought, "could I do this?"
I have done this several times over the years. We slid it over the salumi board, trying it out with different cuts. Most interesting, I thought, was the beef tongue. Is it like the package that was pre-sliced ​​in the freezer section? Definitely not. the [commercial] the spice coating is always very, very thick, and I know it depends on how it's served and how it's made, but that wasn't my thing. I wanted a thinner coating. The texture of this still seemed a little weird and mushy. I tried to make the flavors a bit more of what I like. We also made sujuk, but I made it with pork, dry cured, fully cured sausage. Certainly not traditional.
The Turkish influences were much more apparent in Macellaio, because I feel like I have to sneak a little more into Lucia. We made a dolma variation in Macellaio with Swiss chard instead of grape leaves, and instead of rice we used farro verde for texture. More and more now I feel like, hey, we've been here a while, I can do whatever I want.
The good news is that your regulars are so loyal. They would follow you almost anywhere you wanted to go.
We have a lot of confidence when it comes to people trying dishes. I'm lucky. It's something we've worked on over the years.
During the first part of the pandemic, everyone was stuck at home and I tried to make lahmacun. It was a fun thing to try at home. It's something I'd love to explore one way or another, even if it's making more at home or making it for the staff meal.
Lahmacun would be a perfect thing to introduce to Americans. It worked on us kids when mom would say, "Hey, let's get some Turkish pizza!" Everyone loves pizza.
You can put fresh herbs in it, raw onion, and it's a pizza you eat kind of like a sandwich. There is more crisp than anything [other texture]. I enjoyed that. It was fun.
I don't do a ton of home cooking like that, but to say I don't have a whole lot of stuff influenced by it would be wrong. I use the flavors frequently.
Author
Brian Reinhart
See profile


Brian Reinhart became D Magazine's food critic in 2022 after six years of writing about restaurants for the Dallas Observer and the Dallas Morning News.