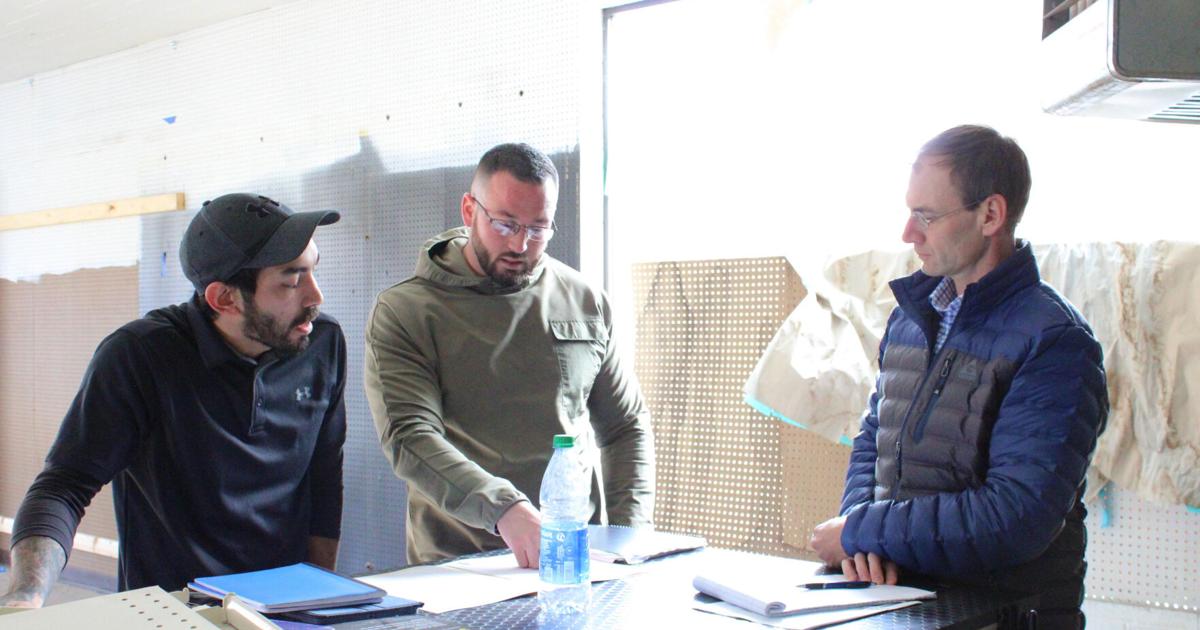 'Leonardo's Italian Cuisine' and cigar lounge under construction for Speed's Uptown Lofts | News
CADILLAC — Local entrepreneur Ryan Cicchelli doesn't just want to open an Italian restaurant in Cadillac: he wants to create an "experience" people will remember long after they walk through the door.
Cicchelli recently announced plans to build Leonardo's Italian Kitchen inside Speed's Uptown Lofts in Speed's former Automotive building at 423 North Mitchell St.
Lee Richards and his wife, Elizabeth Schnettner, own and plan to turn the dilapidated building and adjacent property into a mixed-use residential/commercial business and parking lot, respectively. The redevelopment plan, which Richards says will cost about $3 million, was approved by the Cadillac City Council in December.
Cicchelli said he became involved in the project as a result of his relationship with Richards, who remodeled another building on Mitchell Street used by Cicchelli for one of his businesses – Generations Insurance and Financial Services. Cicchelli also owns or has stakes in a number of other businesses in the area, including Cicchelli Second Chance Rescue And Exotics, Dark Side Studios Tattoo Parlor, and S and R Outdoor Services, to name a few.
Richards told Cicchelli about his idea of ​​opening a restaurant in the Lofts and they decided to team up on the project. Cicchelli brought in his lifelong friend Lenny Martinez to run the kitchen and Martinez's wife, Katelyn Randall, to manage the front of the house.
The name of the restaurant – Leonardo's – is a reference to Martinez's grandfather, owner of Chico's Taco House in Cadillac West.
"His original name is Leonardo," Martinez said. "He taught me everything I know. I wanted to honor everything he did for me.
Martinez said he intends to run Leonardo's like his grandfather ran Chico's, remaining heavily involved in day-to-day kitchen duties and building close relationships with the customers he serves. To that end, Randall said there will be a window into the kitchen so customers can see Martinez and chat with him as he prepares their meals.
Leonardo's Italian kitchen will be the type of place where servers, when describing menu items, will sound like they're telling a story about the food, Cicchelli said.
"A beautiful establishment," said Cicchelli. "Upstairs will be an experience. More enlightened, elegant… you will enter to the sound of Sinatra's music. Personally, I think it will be the most beautiful place in the region."
Cicchelli also plans to build a cigar lounge on the ground floor, complete with a bar serving Scotch, bourbon, whiskey and wine. Like the restaurant, Cicchelli said the most appropriate word to describe his vision for the lounge is "elegant" — a place to relax in style — not a place to party.
"If you want, you can go to a bar," Cicchelli said.
To initiate the Uptown Lofts project, Richards worked with city officials and state agencies to secure financial assistance through tax incentives, grants, and other funding mechanisms. As part of this process, Cicchelli and Martinez worked with officials from the Small Business Development Center, who advised them on their plan every step of the way.
"They help us create a better foundation for our business plan," Cicchelli said. "Making sure we did our due diligence so nothing surprises us later."
Cicchelli said they had already done quite a bit of development work, down to selecting the exact type of ceiling lights they would use for lighting.
With much of the details ironed out, Cicchelli said they were ready to start construction; he expects them to start working in the building by the end of February, with a best-case scenario opening day this fall.
"Over the next 60 days you will see a lot of activity around this building," Cicchelli said.