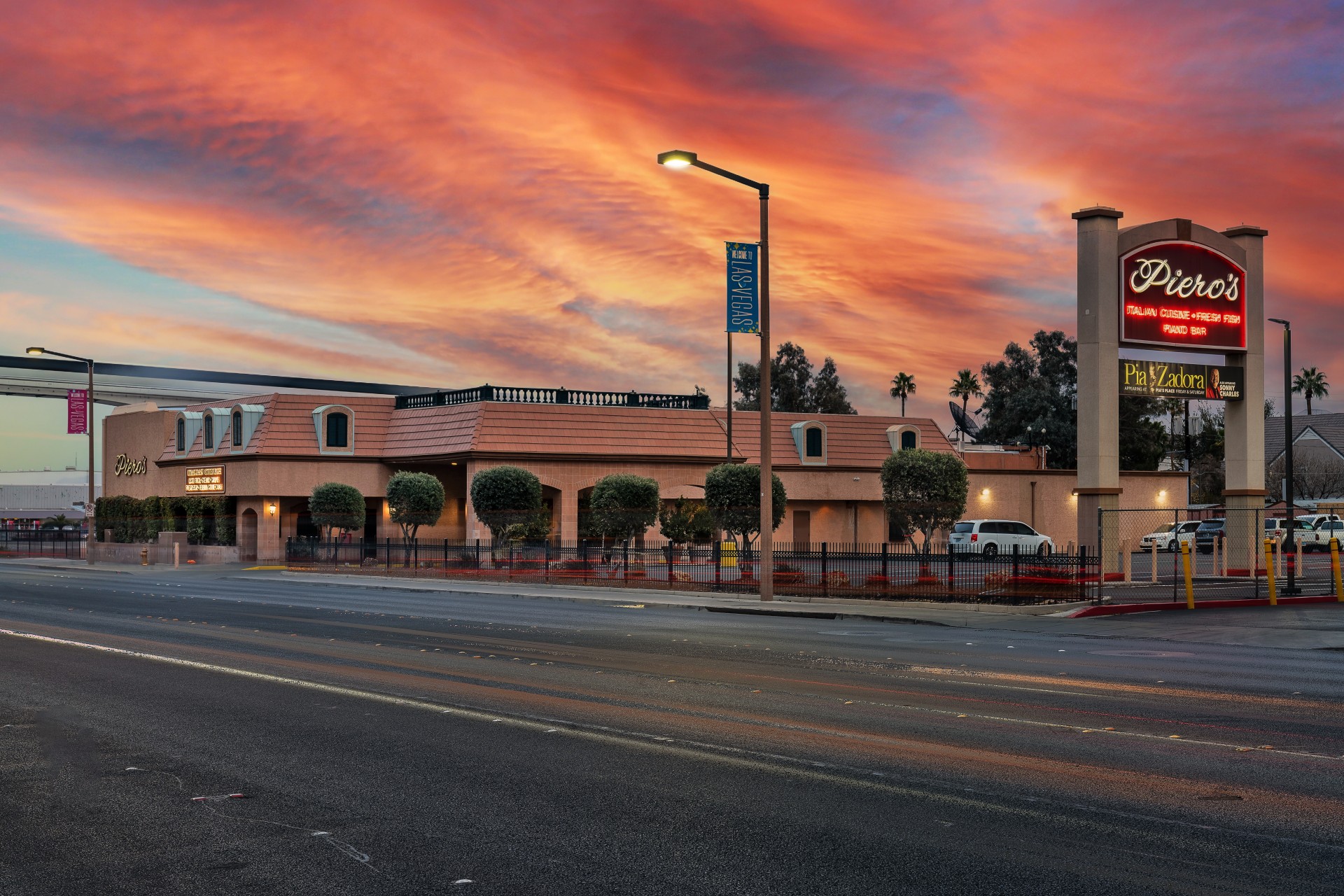 Iconic award-winning restaurant – Piero's Italian Cuisine
Piero's Italian cuisine has been bringing people together for 40 years with great food, service and history.
Sharing a meal with family and friends remains a privileged moment to share food, drinks and laughter while creating lasting memories. Family-run Italian restaurant Piero's Italian Cuisine treats everyone like family. Founded by Freddie Glusman in 1982 right on the Las Vegas Strip, Freddie has become the patriarch of this treasured Vegas institution. His son, Evan Glusman, is his operating partner, but Piero is so much more to him. It is indeed in their DNA, with a third generation expanding their operation.
Upon opening, Piero's quickly became the hangout for politicians, celebrities (including the Rat Pack), conventioneers, locals, and even notorious gangsters. Today, Piero's has a long and impressive list of regulars and guests, including George W. Bush, Bill Clinton, Blake Shelton, Carrie Underwood and Justin Timberlake. Las Vegas regulars include the Las Vegas Golden Knights, Las Vegas Raiders owner Mark Davis, Mike Tyson, Dana White and Steve Lawrence.
Piero's creates that refined, old-school Italian aesthetic, where fine dining and service are at the forefront of the guest experience.
The menu still contains most of its signature dishes since its inception in 1982. Piero's continues to receive annual awards for its incredible Italian cuisine and seafood and five-star service under the leadership of Freddie and his son, Evan Glusman .
Speaking of gangsters, moviegoers might recognize the old-school Italian restaurant from Martin Scorsese's "Casino," filmed and released in 1995. Based on real-life gangster Tony Spilotro who operated Pizza's leaning tower, the Joe Pesci's character, Nicky Santoro, ran the Leaning Tower restaurant in the film. Pesci is also a real Piero fan.
"Joe [Pesci] came to Piero's one evening and lit a cigar. He's a friend of mine, but I wasn't supposed to say cigars in the restaurant," says Freddie. "When the producers came back to use the restaurant for the movie [Casino], Joe had a lit cigar and blew the smoke in my face. But I had to laugh.
Evan was in high school when the movie Casino was shot at the restaurant, and he told all of his high school friends that they had to come see Sharon Stone during her scenes. The restaurant was closed for five days and Evan and his friends dropped out of school to watch Sharon perform.
Another funny story is when Freddie ran the Stardust's pizzeria with the Stardust's president. One day, the president asked Freddie to make him a bag of chocolate chip cookies, and Freddie did. The president gave the bag as a gift, but the man with the bag of cookies was arrested when law enforcement took the bag for skim money from the casino.
Evan vividly remembers the time Louis Eppolito and Stephen Caracappa, former NYPD detectives until their retirement in Las Vegas, were arrested at Piero's. Evan was taking tables and all of a sudden AR15s came out with law enforcement invading the place.
In many ways, Piero's mirrors Las Vegas, the story of moving to Las Vegas from another location, multiple jobs, and success.
Born in Canada, Freddie personifies the dream of Las Vegas. He became an American citizen, served in the military, and moved from California to Las Vegas in 1957. He ran different businesses, sold carpets, and then began his culinary career at the Las Vegas Sporting House athletic club, the one of the most upscale gyms. at the time.
He started the restaurant with a close friend, chef Piero Broglia, with a desire to help the chef start a business. Freddie then had to ask him to leave six months later, but retained the restaurant with the sole right and ownership of the name "Piero's". When the two parted ways, Freddie brought in sous chef, Gilbert Fetez, who served as Piero's chef for 38 years before retiring.
"Chef Piero made the best pasta and I've always loved the food he made. He was a great chef and I still think he is a great chef to this day.
As for the secret of Piero's 40 years of success, "I'm handsome", laughs Freddie, 85. "The secret to Piero's success is that the minute the customer comes here, the valet takes care of your car, and there is no charge. Afterwards, customers enter, sit down and are introduced to the staff who will attend to them. Then we serve the best bread in town at the table," he points out, which is the only food that is not homemade.
The next item is the Caesar salad, as Freddie explains, "is second to none. When you go to a restaurant, the first two things most customers eat are bread and salad.
His second secret to success is "not to overestimate. If we have to increase them, we do so, but we remain reasonable. Next, "stay consistent. The menu item a customer orders today will be the same tomorrow, next week, and next month. »
Going to Piero's is like coming home, with Freddie sitting in his stall for 40 years and Evan making sure everything is "out of the ordinary, including the service and the food." My dad knows so many people who walk around this room, and as far as the younger generation goes, myself, Billy, Pat or my bartenders know them. We've been doing the same thing for 40 years and it works.
Even as Freddie's son, Evan, started at the restaurant as a server and worked his way up to general manager.
"I couldn't find another job," laughs Evan. "I've always loved the restaurant business and it's the best place to work."
The menu at Piero's is solid and not trendy. "The osso buco is one of the best dishes on the menu. Yes, we changed our Caesar salad and added a few elements, but it's still one of the best, and a lot of our competitors are trying to steal our recipe.
According to Evan, people try to duplicate many menu items, especially their cream of corn, but they add their own twists, making their dishes unique. For example, they butter the veal chop and then cook it. The dish remains a traditional Italian favorite but with an added twist. Their steaks, lamb chops, linguini and clams, and pastas, as well as their specialties will make any meal memorable. Although changes and additions are made to the menu, Piero's keeps it consistent.
Another unique feature that sets the restaurant apart from all others is its artwork, especially the monkeys. When the addition was added to the restaurant, they wanted to include local artists, so they included the work of Jose Bellver. The painting in the entrance with a monkey on the left and a monkey flying away on the right represents someone he loved who passed by. Another image shows Adam and Eve with Eve holding a lemon, "because women can be sour", says Freddie, who has been married four times. The dining room paintings depict many Las Vegas luminaries who had dined at Piero's over the years, including Jerry Tarkanian and Jerry Lewis.
At one point in the business, Piero maintained over $1 million in wine inventory. Customer tastes have evolved and the demand for premium wines is not as high, but Piero's has an excellent wine list for all tastes and prices.
Prior to the pandemic, Piero's had its best year ever, with its busiest year in 2020 as the business continues to improve. In fact, Piero threw a 40-year celebrationand birthday party attended by VIP guests and clients.
"We've been doing very well for 40 years and will continue with each generation," says Evan.
"At Food & Beverage Magazine, we all felt honored to be invited to attend Piero's 40th birthday celebration. Awarding Piero's Icon Award was truly special and well-deserved," says Michael Politz, Editor of Food & Beverage Magazine.
Piero's Italian cuisine
355 Convention Center Drive
Las Vegas, Nevada 89109
702.369.2305
pieroscuisine.com