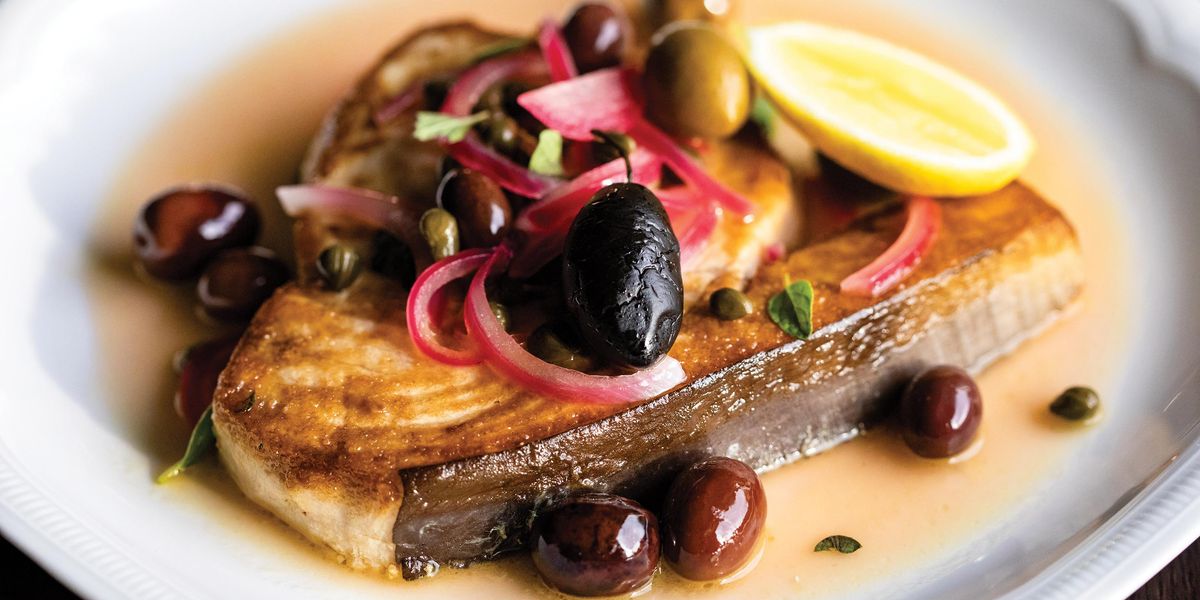 Houston's love for Italian cuisine blossoms again as a trio of restaurants bow for the holidays
SOME LIKE trattorias BUZZY across Italy during the holidays, champagne corks pop, flutes clink and white lights twinkle amidst a buzz of international chatter at Hotel Granduca's newly rebranded Alba Ristorante. Owner Giorgio Borlenghi named Alba both for a northern Italian town famous for its white truffles and for the Italian word meaning "a new beginning." With an alluring setting and menu, this is just one of many new Italian spots – each one unique, from the lavish to the chic and upbeat American-Italian.
---
At Alba, formerly Ristorante Cavour, chef Maurizio Ferrarese is touting a sleek new menu showcasing his flair for northern Italian cuisine, especially truffles and risotto. He personally delivers signature dishes to the table, like scallops with shaved black truffles met with "oohs and 'ahhs'" from guests. "We provide an experience, not just fine dining," says Ferrarese, who runs Granduca's kitchen since 2018.
Alba aims to provide seamless service without being intrusive and offers sumptuous dinner selections: seafood dishes prepared with ingredients sourced from the Gulf and the Mediterranean, truffles from Italy, pristine miniature local vegetables. The desserts are exquisite – the ethereal raspberry panna cotta wrapped in red velvet can rival any gift under your tree.
Speaking of, are you feeling stressed out about the holidays? Settle into cozy banquettes in this intimate, subdued space, and the tension will suddenly melt away. Rilassare. Italians don't rush meals.
Alba executive chef Maurizio Ferrarese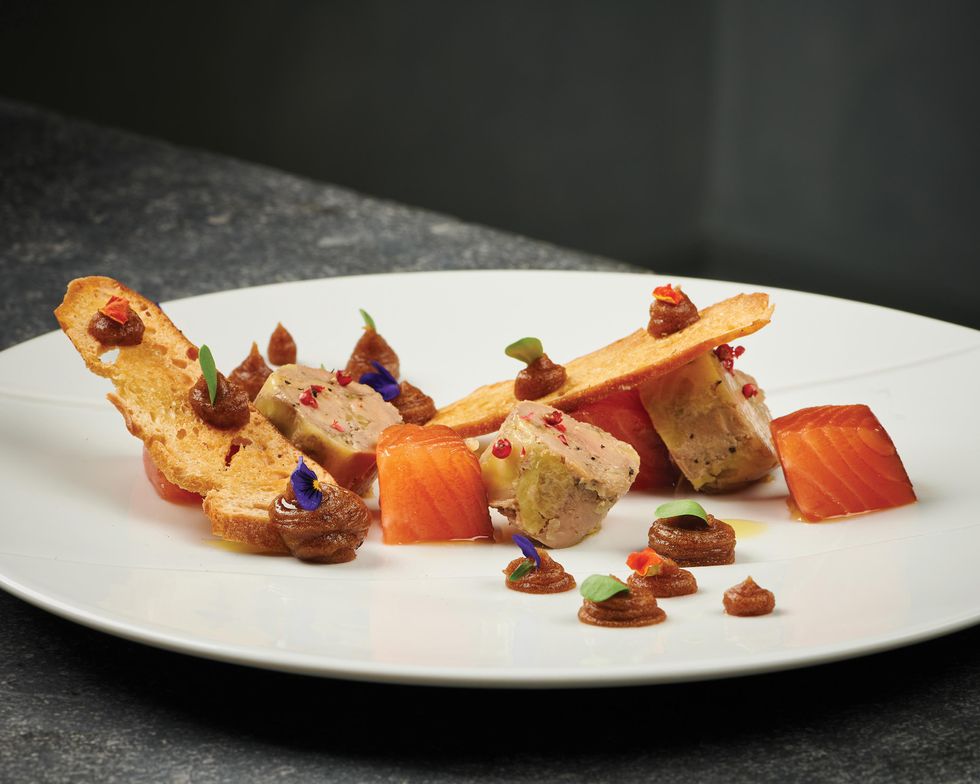 Salmon and foie gras in Alba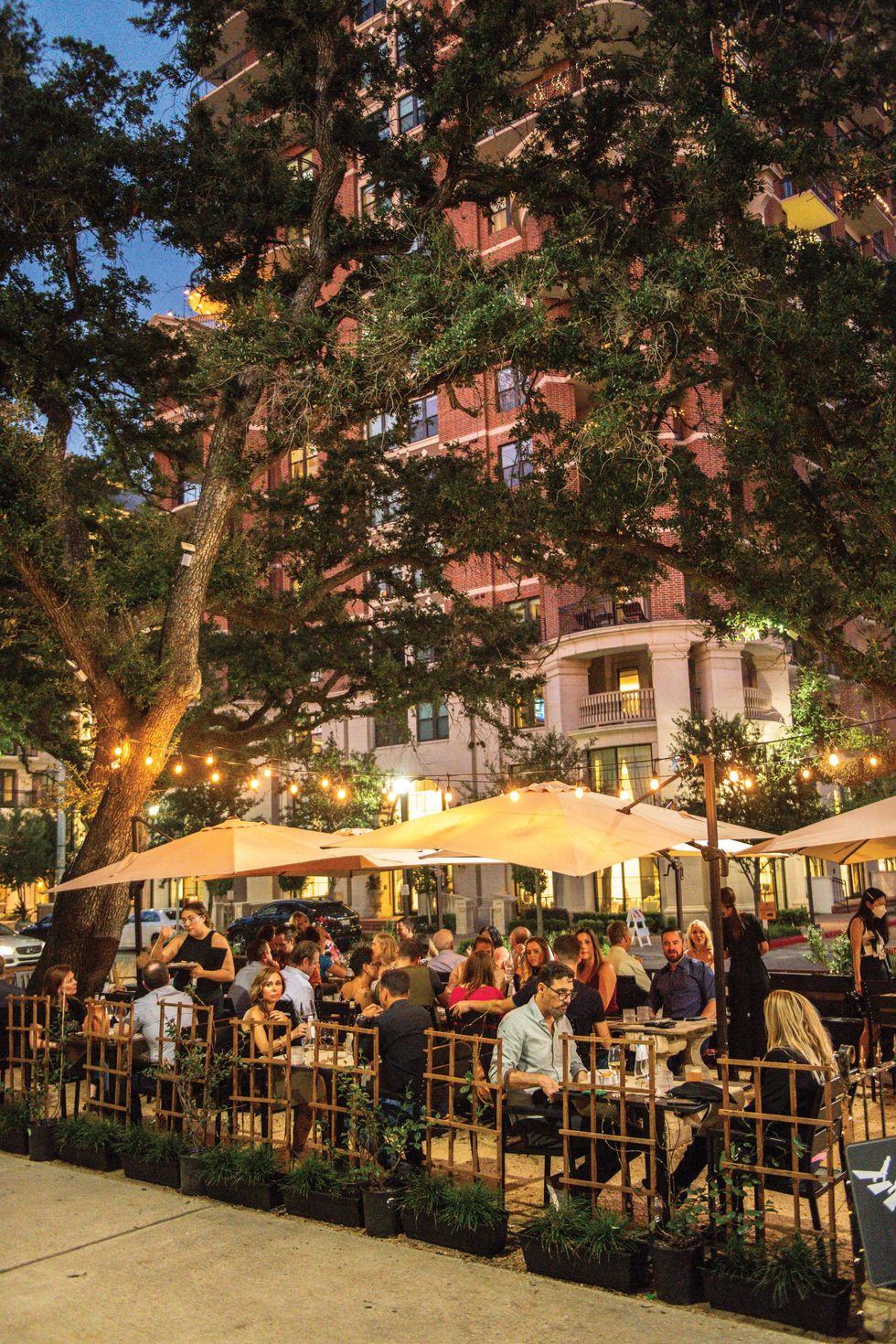 Concura's patio along Mid Lane
Ferrarese guarantees "holidays tasting menus are in place." So let's start with the beautiful new Champagne Bar, complete with an 18th-century Italian library and a hand-painted ceiling mural. Perfect for casual get-togethers, the bar's Champagne Encounter combines three champagnes to a trio of fancy snacks (think blinis and caviar, Italian cheeses, cocktail shrimp). As an option, consider the Cocktail Encounter.
"We add dishes to our tasting menus that represent Italian holiday traditions," says Ferrarese. "Growing up in Piedmont…we always had a lot of antipasti, panettone desserts and the best Barbera and Barolo wines. Holiday tasting menus are offered Dec. 24 and 31, and private parties of 25 to 35 people can be booked in advance.
In the stylish hidden gem of Concura, near the River Oaks district, owner Jessica Biondi, who lived in the seaside region of San Marino in central Italy, describes her new concept as "traditional Italian meets contemporary, with coastal flavors of the Adriatic". The restaurant has been a passion project for nearly a decade for Biondi, a fashion and design consultant who pays close attention to detail, right down to Concura's signature scent added to the air conditioning system.
Chef Angelo Cuppone's menu emphasizes fish, including sea bass carpaccio, Vitello Tonnato (thinly sliced ​​veal draped in tuna sauce) and a riff on tuna tartare served on a snowy burrata. Seafood is inventively worked into the pasta: discover hearty homemade gnocchi with saffron and prawns, and chitarrin egg pasta with rich fish stew. But Cuppone knows that "meat is a must in Texas", and prepares a beautiful dish of beef tenderloin with smoked herbs, rabbit in porchetta, and three tasting menus. Try the chocolate salami and parmesan ice cream!
"In Italy, the holidays are the high point of the year, so we are following suit," adds Biondi. Concura's big Italian Christmas dinner will take place on December 23; book ahead for the fixed-price broadcast of Italian classics featuring fish, "the Italian sacrifice meal to save the beef for Christmas Day." A look at the menu reveals baccala (cod) tomato sauce with potatoes, gnocchi of fishand panettone (dessert bread) with sweet cream.
For an extra treat, personalized gift baskets with pantone, wine and Concura candles are offered. As a gathering place, the captivating patio with flickering candles, string lights, and festive decor channels a charming Italian village, even though you're tucked away from Mid Lane, sitting under towering oak trees.
Meanwhile, the Heights area's Trattoria Sofia, slated to open today from Berg Hospitality, is all about exploring different culinary regions of Italy with a fun and approachable vibe – reminiscent of a cruise in a convertible. Alpha Romeo through the Tuscan countryside. With vine-covered stucco walls and hues of teal, dusty rose and terracotta, Sofia resembles a trattoria you might stumble upon in rural Italy, with enchanting and spacious indoor and outdoor garden seating.
Sofia's menu will bring you home after the holidays with familiar American-Italian dishes – veal chop Milanese, clams organata toast, eggplant toast — all enhanced with surprising twists. "Restaurant owners always call their concepts their 'babies,' but as the first restaurant I named after one of my children, Trattoria Sofia holds a special place in my heart," says owner Benjamin Berg.