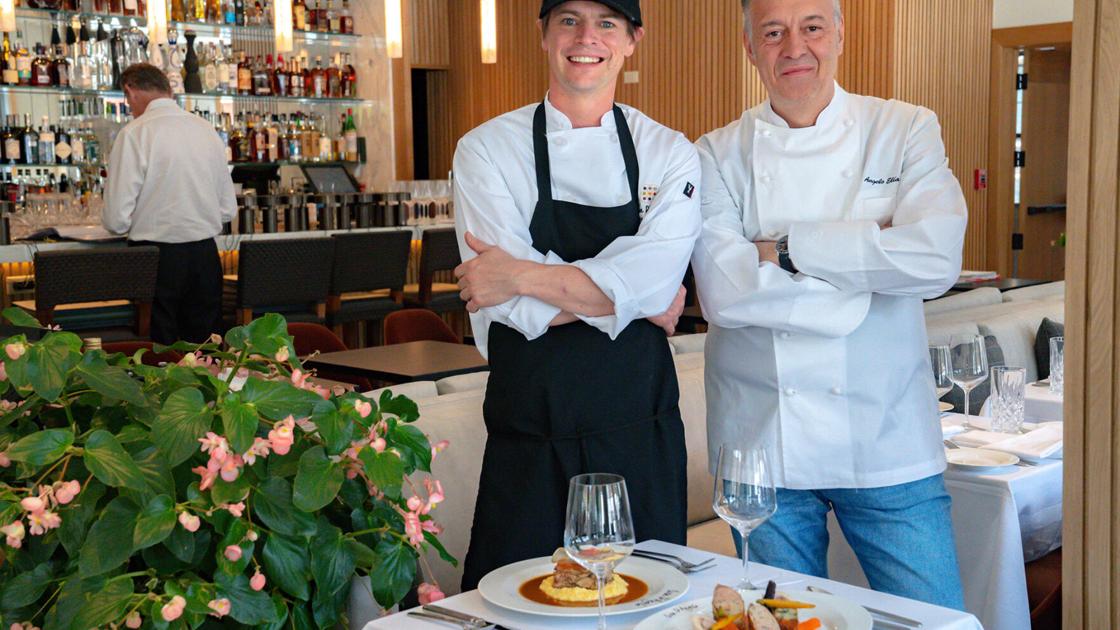 First Saturday: Casa D'Angelo serves authentic Italian cuisine in the former location of Pinons | New
A week into its tenure as Aspen Restaurant, Casa D'Angelo features a full bar, patio seating with Aspen Mountain views, and a full wall of windows to provide the perfect dining experience. at sunset.
Celebrity chef Angelo Elia – born in Salerno, Italy and now a longtime resident of South Florida and Snowmass – celebrated the grand opening of his first Aspen-based restaurant last Friday. Elia has nine Italian restaurants in South Florida and the Bahamas, and he's said he's thrilled to bring their traditional home-made flavors and fresh, local ingredients to Aspen.
"I'm in love with Snowmass and Aspen, so I feel like I'll be here forever," Elia said. "I don't classify myself as a legal person, I classify myself primarily as a restaurateur but I focus on individuals. We are an independent restaurant. We love what we do, we bring the best quality. I am not satisfied with any of the second day articles.
Elia imports many of its ingredients such as meat and seafood from outside, but several of its dishes will also incorporate local ingredients. The Casa D'Angelo menu includes 10 new Aspen-specific items, including an Aspen salad and goat cheese sorbet. Quality is the most important thing, he said, and he enjoys using local, fresh ingredients to provide variety.
Casa D'Angelo opened on July 30 and reached full capacity. Elia moved into the space vacated by Piñons, a staple in Aspen which closed in April after 33 years. While Elia rearranged the space to make the space its own, he kept several Piñons staff, so the restaurant didn't feel so unfamiliar.
In addition to his culinary experience, Elia prides himself on his knowledge of wine, being a vineyard owner himself. Wine is also included in its objectives for its Aspen site.
"I am very focused on great wine," he said. "We already have an incredible wine list, but in about a year, two years, I want to make one of the best wines [lists] in Aspen. That's my goal."
Elia said that when customers come to eat at his restaurant, he recommends a glass of wine and the veal chop, which is his favorite. While all the dishes on the menu receive his comments and most were created by him, Elia will entrust the cooking on the Aspen site to his chef, Mark Connell.
Originally from Reno, Nevada, Connell studied culinary arts and baking in Vail, Italy and Napa, California. He took his first job as an executive chef in Santa Fe, New Mexico, and traveled to Aspen to pursue the dream of just skiing and cooking. He met Elia on a whim through an advertisement and was hired on the spot.
"I've been working at a very high end club for two years… and I really miss cooking for the general public," he said. "There is something more to this. It's more difficult, but I can't wait to be somehow in charge of a restaurant. I had an executive chef at my last job so I didn't have full control over the menu. So that's something I'm looking forward to – being able to do that and be able to make my desserts too, because we had a pastry chef and I couldn't make any desserts, and that's obviously something that I love to do. "
Elia said he also admires Connell's knowledge of Italian cuisine, a practice Connell said he learned while studying in Italy and that he still prefers over other types of cuisine. He joked that in his previous jobs his menu sometimes featured too many Italian dishes, but now it looks like he can't be Italian enough.
Connell is one of 40 team members who will be working at Casa D'Angelo, and Elia said he hopes to expand to 50 employees when possible. In all of his restaurants, he employs around 500 people and he said he was proud of the fact that throughout the COVID-19 pandemic, he lost none. Elia also hopes to open a second restaurant in Aspen, a fifth of its Angelo Elia Pizza, Bar & Tapas restaurant.
Casa D'Angelo is located at 105 S. Mill Street and is open for dinner from 5:00 p.m. to 10:00 p.m. Sunday through Thursday and until 11:00 p.m. on Fridays and Saturdays. Take-out is not yet available but will be an option in the coming weeks as the business takes hold. Reservations are available by calling 970-920-2021. More information is available on the restaurant's website at casa-d-angelo.com and on Instagram @casa_dangelo.