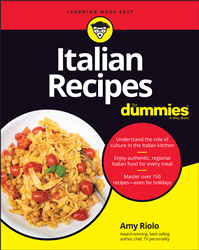 Award-winning author Amy Riolo posts Italian recipes for dummies for International Cultural Awareness Month
"My 11th book contains all the history, cultural information and theory I developed in my Mastering Italian Certification cooking class series. It includes 150 recipes from all Italian regions and food and wine pairings by researcher and Italian sommelier, Dr. Sante Laviola."

WASHINGTON (PR WEB)
May 11, 2022
In Washington DC, the month of May has been proclaimed International Cultural Awareness Month. The observance celebrates global diversity with unique opportunities to experience other cultures. "There's no better way to initiate dialogue than through cooking," says international chef Amy Riolo, "and cookbooks provide the perfect windows into all cultures." In Italian Recipes For Dummies, the best-selling author and co-founder of ANITA (Accademia Nazionale Italiana Tradizioni Alimentari/National Academy of Italian Food Traditions) offers readers the perspective, passion and knowledge needed to master Italian cooking. authentic from anywhere in the world.
Now available on Amazon and through other booksellers in Kindle and Paperback versions, this highly anticipated volume is a step-by-step guide to creating authentic Italian dishes, starting from the basics and progressing to more advanced techniques and recipes. You will discover how to buy, plan and cook authentic Italian dishes correctly. You'll also find tips on how to incorporate the cultural, nutritional, and historical influences that shape classic Italian cuisine. Italian Recipes For Dummies includes individual chapters on Italian pantry staples: wine, cheese, and olive oil and over 150 easy-to-recreate Italian recipes. It's the perfect book for home chefs, Italian enthusiasts, homemakers and anyone looking for culinary inspiration. Italian Recipes For Dummies is also an essential guide for people looking for healthier ways to shop, cook, and eat without giving up amazing flavors and rich foods.
Want more? Chef Riolo's succulent recipes featured in the book include Insalata di mare/Seafood salad, Salsa di pomodoro/Fresh tomato sauce, Cotolette d'agnello alla griglia/Grilled lamb chops, Insalata Caprese/Caprese salad, Pizza Bianca con rucola e salmone affumicato/White Pizza with arugula and smoked salmon, and Rigatoni al forno. Italian cuisine is synonymous with elegance, simplicity and a rich tradition. Best of all, when prepared correctly, it's also healthy and delicious. Italian Recipes For Dummies shares real Italian recipes and strategies for cooking the world's most popular cuisine, starting from the basics. You'll learn how to stock your Italian pantry with the finest ingredients, make your own fresh pasta (and master the art of cooking ready meals), all while creating a menu any Italian grandma would be proud of. Discover how easy and fun it is to recreate the taste of Italy in your own kitchen.
About Amy Riolo

As an award-winning author, bestseller, chef, television personality and educator, Amy Riolo is one of the world's foremost authorities on food culture. She is known for sharing history, culture and nutrition through global cuisine as well as simplifying recipes for the home cook. Amy is a brand ambassador for the University of Integrative Health of Maryland, the University of Pizza and Culinary Arts Center and Ristorante d'Amore in Capri, Italy, and makes frequent appearances on many programs of television and radio in the United States and abroad. In 2019, she launched her private label collection of premium imported Italian culinary ingredients called Amy Riolo Selections, which includes extra virgin olive oil, balsamic vinegar and pesto sauce sourced from award-winning artisan companies in Italy.
For more information about Amy Riolo, please visit amyriolo.com or to schedule media interviews, presentations or events with Amy, please contact: [email protected]
Share the article on social networks or by e-mail: